Visitors Information
The world renowned Galway 'Blazers' whose history traces back to the 1700s now offer special packages to come and hunt for a week or long weekend or indeed a single day (which will only whet your appetite). Come and join us in the legendary stone wall country and relive the wonderful stories regaled for many years of galloping hard and long evenings reliving the day. An opportunity to retract the steps of luminaries such as our former joint master the late John Huston who described his 10 years living in the beautiful St. Clerans House and hunting 3 days a week as "a wonderful time in my life".
Our season runs from mid October to early March hunting 3 days a week on Saturday, Tuesday and Thursday. The 'Blazers' hunt country covers about 30 miles square of limestone pasture with dry stone walls, good light going. We do encounter some wire in our country due to the advent of modern farming methods but by enlarge the farmers who so kindly allow us to cross their land accommodate places where the walls are safely passable. The walls vary in size and structure from the light single stone walls to the famous double walls which form the historical boundaries between parishes and estates of old. The estates may now be largely gone but the double walls have stood the test of time. Our country offers an enjoyable challenge for both the experienced and novice rider, for the experienced there is the challenge of fly jumping walls at the gallop and for the novice, if discretion is exercised a gap will always appear in even the best built wall!!! We can offer you the opportunity to book 3 days hunting with us and we can steer you in the right direction to easily book you hire of horse by calling the numbers below.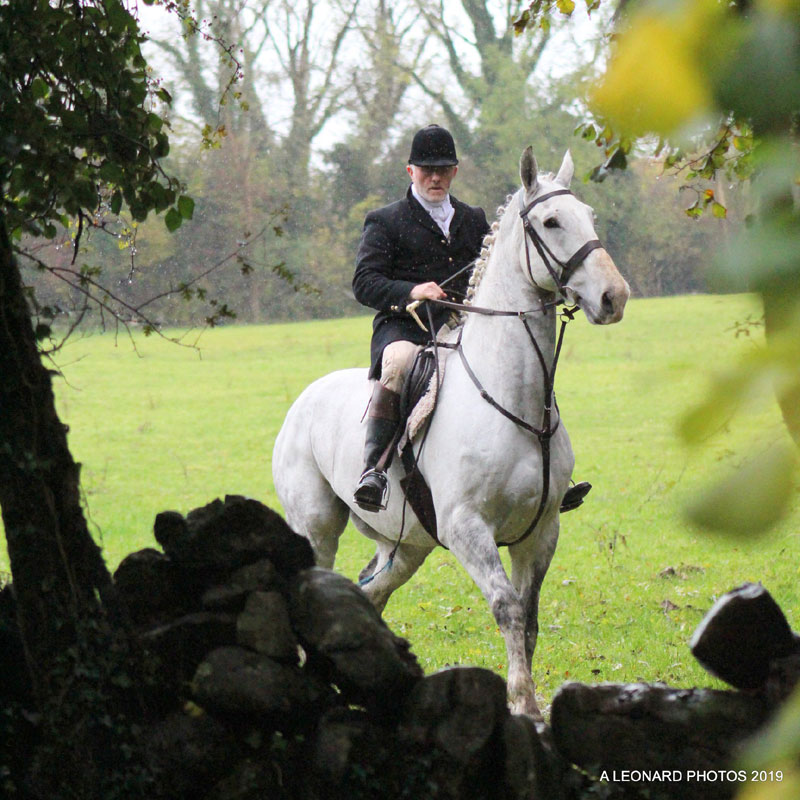 Subscription Cost
Visitors cap is €150.00 (includes your Day Membership).
As part of the experience of immersing yourself in the history of the "Blazers" and in getting to understand the intricacies of fox-hunting a visit to our kennels will be arranged for a walk through and meeting with our huntsman.
Waivers – Visitors
As part of the Group Insurance Programme in place with LHK Group (Insurance Broker) each visitor needs to sign a waiver and have it witnessed by a Solicitor and return to the Hon Secretary in advance of hunting. Please click here to download the waiver.
Insurance – Visitors
As part of the Group Insurance Programme in place with LHK Group (Insurance Broker) everyone hunting must hold their own personal accident cover. Your Insurance policy must be sent to the Hon Secretary.
Hirelings
You will need to contact one of our local hireling companies as set out below to book directly with them, both of whom are steeped in knowledge and the tradition of the Blazers.
In addition they can arrange if required a schooling session over a sample of walls with your hireling provider to include tuition on how best to approach our country and the etiquette for hunting with the Blazers.
Contact Johnny Geoghegan, Lisnagranchy Stud, Craughwell, County Galway 00353 86 8659807 or Dartfield Horse Museum, Loughrea, County Galway 00353 91 843968.
Accommodation
There is a variety of accommodation whom you can book with in our country and who will be aware of your hunting needs. We would suggest a number of places as set out below however the list is far from exhaustive as Galway is full of hotels who will be delighted to see you.
Ivy House
Ivy house exudes country charm and comfort. A neogeorgian style house in design it occupies a rural setting enveloped by mature landscaped gardens. For details see www.ivyhouse.ie.
Craig House Hotel
Tom (Former Huntsman with County Galway Hunt) & Mairead's luxury B & B with an old country house atmosphere to it. Affirming the atmosphere of a private home the living room and dining room offer a unique taste of "Victorian Life" and the spacious ensuite bedrooms offer the guest the luxury of modern life. For details see www.craigcountryhouse.com.
Dunkellin House
An entire house to rent in the heart of the Co. Galway hunt country. Perfect for private hunting parties and people wanting to have the use of a home from home. The owners of the property are steeped within the history of the Galway Blazers and the house lends to many stories and pictures on offer to read about. For details see www.tuliraconnemaraponies.com.
Raheen Woods Hotel
Raheen Woods Hotel is situated in the heart of our hunting country with great access to the motorway and trains with a state of the art gym. For details see www.raheenwoodshotel.ie.
Oranmore Lodge Hotel
Oranmore Lodge Hotel is situated in Oranmore which is close to both hunting country and Galway city. For details see www.oranmorelodge.ie.
Loughrea Hotel and Spa
Loughrea Hotel and Spa is situated at the eastern side of our county and well acquainted with the needs of the hunting enthusiast. For details see www.loughreahotelandspa.com.
Lady Gregory Hotel
The Lady Gregory Hotel is situated at the southern side of our country and the closest to Shannon airport they are well acquainted with the needs of the Hunting enthusiast. For details see www.ladygregoryhotel.ie.